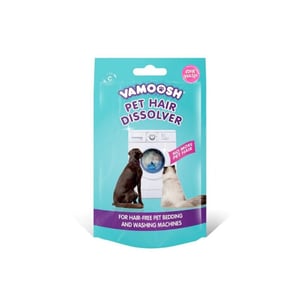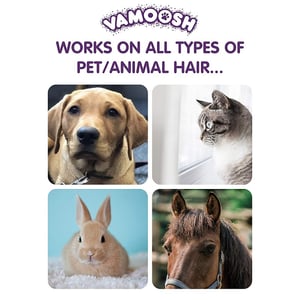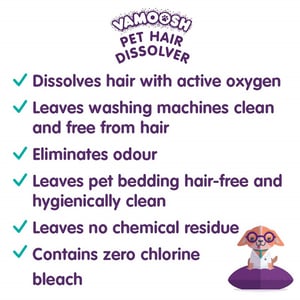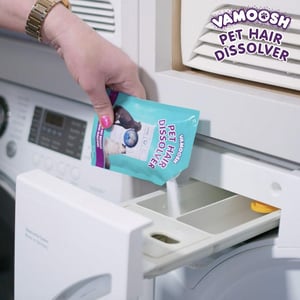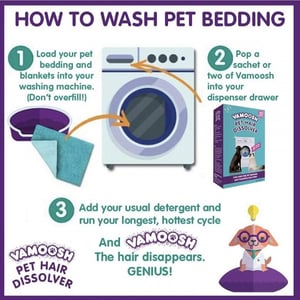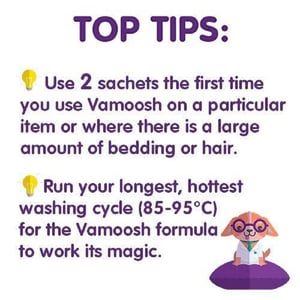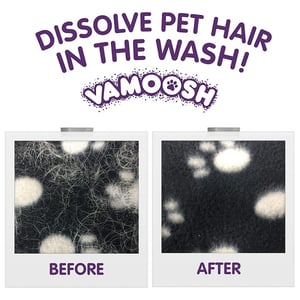 Vamoosh Pet Hair Dissolver 100g

It is the world's first pet hair remover for washing machines.
Using active oxygen, Vamoosh breaks down hair in the washing machine.
Leaving pet bedding, towels and blankets hair-free and clean.
No more pet hair.
Do not use on pets.
Made in Poland.
How to use:
1.Pour contents of sachet into your washing machine dispenser drawer. Then add your normal detergent.
2. Place pet bedding in your machine.
3. Run your longest / hottest cycle (85/95°C).
4. Dry bedding as usual Tumble dry to maintain fluffiness.
Advice & Tips:
Use 2 sachets the first time you use Vamoosh on a particular item (due to the ingrained hair) and for larger loads and very hairy bedding.
For machine washable pet beds, blankets and towels only.
Do not use on wool, silk, leather or sheepskin.
Can also be used on an empty washing cycle (with no pet bedding) to remove excess hair
NB: Under most conditions, Vamoosh will dissolve the majority of pet hair in the washing machine, but results depend on factors such as quantity of hair, type of hair, washing machine model and amount of fabric.
&copy 2023 THE MALL ALL RIGHTS RESERVED