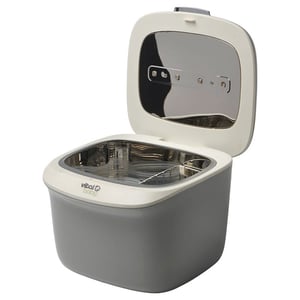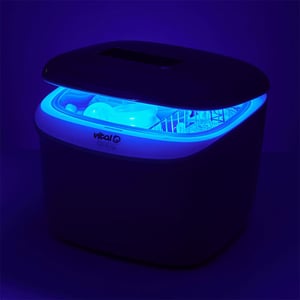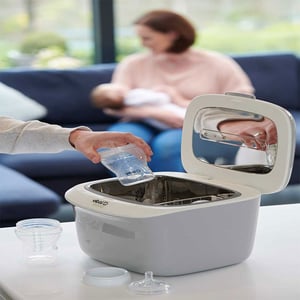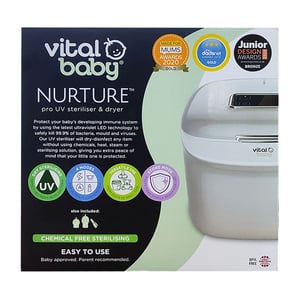 Vital Baby Nurture Pro UV Steriliser & Dryer (8531)

Includes:
1 x steriliser & dryer unit.
Vital baby NURTURE breast like feeding bottle 150ml.
Vital baby NURTURE breast like feeding bottle 240ml.
Each bottle includes a slow flow teat.
1 x teat tongs.
1 x accessories basket.
Imported from UK.
Features:
Revolutionary: UV steriliser has multiple uses where any small item can be sterilised, ranging from baby bottles and accessories to teethers, soothers and toys. Even make-up and hair brushes, as well as mobile phones and small household electrical items can all be disinfected in our UV steriliser.
Drying mode – before sterilising bottles, teats and accessories, ensure these are thoroughly cleaned to remove all milk residue. There is no need to dry them after washing using this clever function. Simply add them to the UV steriliser whilst wet and it will dry them for you, ready for sterilising.
Sterilising mode – select this option immediately after drying mode, or if the items do not require drying mode. Ensure that all parts are fully disassembled and placed inside so the UV light can make contact with all areas - we have enclosed an instruction manual for full tips on positioning.
Auto mode – this mode starts by drying the contents before automatically moving on to sterilizing mode, doing all the work for you. Perfectly dry and sterile accessories in just 41 minutes.
Store mode –this clever little box can be your hygienic storage cupboard for all your accessories! Store mode runs a full sterilising and drying cycle, then it pulses the bacteria killing UV LED's for 2 minutes, every 2 hours. This keeps everything sterile and ready to use for up to 3 days.
BPA free.
Does not use chemicals.
&copy 2023 THE MALL ALL RIGHTS RESERVED